Mercatus, the Marketing Society of the college is a young society that started functioning in 2015 but has come a long way in marking its presence in terms of its programs, events and enthusiastic members. Mercatus is known for its fun-filled offline and online activities that showcase as well as hone the skill of marketing anything under the sky. As Mercatus grew, so did the membership from different departments when the potential students seeking membership realized that marketing is all about knowing the product and the customer to win profitable solutions for both. Today there are over 130 student members. Dr. Savita Rastogi, Convenor of the society and the teacher members Ms. Vrinda Moda and Ms. Alisha Joseph constantly guides and inspires the society members to take the society to greater heights.The society's interview saw Radhika Goyal as the President and Kavya Tandon as the Vice-President for the academic year 2021-22.
The most popular events of the society that see large number of footfalls are creatively designed each year by various teams who comes out with innovative events and activities. Amusement Day, a day many DU college students look forward is full of fun, frolic and of course, cracks your marketing wits. This is followed by speaker sessions by various marketers from the corporate, startups and self-employed professionals.
One big bang event of the society is its Annual Marketing Convention called Zion which is normally held in the even semester. Besides programmes such as M-Plan, Amazing Race, Ad-Mad, Marcade (Trading game) etc, the highlight of this convention is the Speaker session which showcases youth icon/s who have marketed themselves through their talent and skills.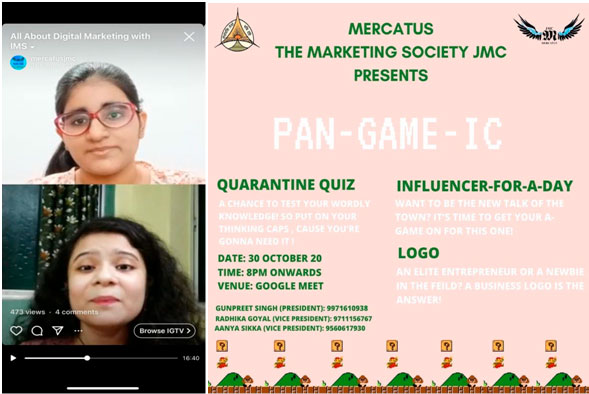 In the online mode, Mercatus introduced 2 new events called the Pan-Game-Ic and Mark-a-Muse. This year, Sejal Kumar, an influencer and motivational speaker, was the keynote speaker of the event.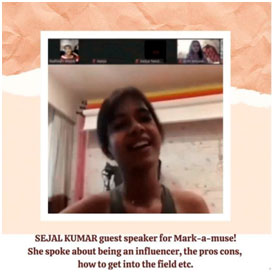 Mercatus tread its steps last academic year into a new marketing initiative when it realised the hassle that the Society Fests face to hire the tables for the event so to overcome the issue it began its in house venture. It allows other JMC Societies to borrow lightweight and easy to use tables at just Rs. 70 per table. It reduces the cartage cost that societies had to bear and also provides funds to our society.
The society boldly went ahead in launching two green initiatives to become a society that believes in sustainable marketing. In collaboration with Enactus, it jointly started an ongoing campaign on 'Anti Plastic cum Recycling Initative' to reduce single use plastics by productively recycling them in partnership with ShynaEcounified India Pvt Ltd. Inaugurated by Gautam Gambhir on 3rd October 2019, 1300 kgs of plastics collected were given to the company for recycling into plastic tiles. The second cycle of plastic collection took place on 6th November 2019. We stepped forward in our sustainable marketing initiative by starting JMC Crockery Bank, which lends FREE crockery to all departments and societies for reducing the volumes of plastic crockery used in our college functions. Crockery Bank will be operated by Mercatus's Subsidiary Arm – "JMC Crockery Bank Team", comprising a core group of Mercatus members with a Faculty In Charge and Faculty member (both of whom are the independent and sole advisors to crockery bank) to advise/guide its functioning. We are very grateful to our former Faculty Adviser – Dr. Mani Arul Nandhi, Associate Professor, Department of Commerce who has donated New Steel Crockery worth Rs. 92000 to the college, to start our Sustainable Marketing venture.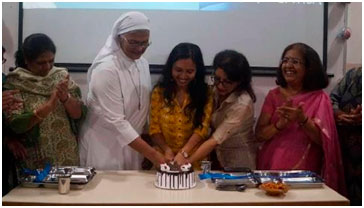 Recently, we announced our new venture "Community over Competition". With this program we take a step towards adding extra-curricular activities tothe usual academic courses! This initiative is in collaboration with Teach for India.We plan to inculcate various performance arts like dance, art, music, and theatre, with an aim to uplift and empower the underprivileged, by helping them explore their interests outside the walls of the classroom.

We also launched the VIRTUAL BAZAAR, an initiative in partnership with Trikon Society. Virtual Bazaar is an online platform for selling merchandise. It will be a virtual store to purchase various handmade products including Dhoop sticks, Dhoop cones of variousfragrances, baskets of utility and the magnificent Aipan Art made by the women artisans of Trikon. Trikon Society is a governmental organization run by a group of professionals, with the objective to provide experiential learning and vocational training programs to empower and develop a weaker section of the society, towards self-dependence which would enable them to lead more effective & satisfactory lives along with the mainstream. We hope to create a positive impact and help get the efforts of these wonderful women recognised.

Mercatus recruits new members –essentially from first years – in August each year and both the selection and competition among probable is tough.