B.Voc Courses – B.Voc - Healthcare Management and B.Voc – Retail Management & IT were introduced in 2016 which are a judicious mix of skills relating to professional and general education to ensure students are work ready at each exit option available to them.

It is a combination of classroom learning and training to develop new skills. The objective of these courses is to give industry relevant skill training to fill the skill gaps, identified to meet the rising demand in the Healthcare and Retail sector and make students job ready.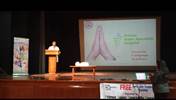 Students are encouraged to do out-of-the-box/lateral thinking which is done by assigning them various projects, 3-D working models, seminars, workshops, role-plays etc.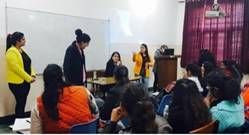 JMC has tie-ups with leading hospital chains and corporate groups which include Sir Ganga Ram Hospital, Holy Family Hospital, Max Healthcare, Fortis Hospital, St. Stephen's Hospital, Clear Medi Pvt. Ltd., Marks and Spencer , FAB India, HyperCity, Reliance Trends, Bestseller, Aditya Birla etc. Students of both the courses go for internships in each semester to lea3n practical aspects from the Industry which makes their curriculum very interesting and unique.