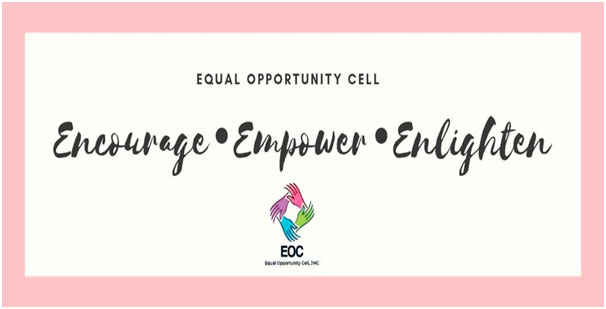 The College has an Equal Opportunity Cell which looks after the interests of the students with special needs. Special support is provided to slow learners and those who need additional help through a variety of means such as remedial and extra classes. The College has constructed ramps, railings, accessible washrooms and Braille-enabled sign boards for differently abled persons. Funding is given by UGC to run the Cell (EOC).Please refer to the UGC Guidelines for Scheme of Equal Opportunity Centre for Colleges XII Plan (2012-2017)
Link 8
Motto
ENCOURAGE • EMPOWER • ENLIGHTEN
To raise awareness and give the unheard voices a place to belong.
Aim
The Equal Opportunity Cell stands as a pillar of social justice in the institution. The society works towards its commitment of creating avenues for students with disability to fulfil their potential and create awareness among the members of the institution to the needs of students with disability and under-represented sections of the society.
Scope
The scope lies in creating an atmosphere of equality with special privileges to the least advantaged groups of the educational institution. The society also focuses on the academic discourses to sensitise the college community. Extra-curricular activities are conducted to bring knowledge and awareness among the student community.
Objectives
To be the torchbearer of creating awareness of the concept of equal opportunities to one and all; irrespective of gender, ability, socio-economic background, caste, religion or language; on the lines of the UGC guidelines.
To oversee the effective implementation of policies and programmes for disadvantaged groups, to provide guidance and counselling concerning academic, financial, social and other matters and to enhance the diversity within the campus.
EOC stands as a platform to create avenues for people with benchmark disabilities and give them a space to feel like they belong.Through its annual events Prayas and Unnati, the society seeks to generate awareness for the same. Equal Opportunity Cell, JMCorganized PRAYAS2021– an Annual competition for students with benchmark disabilities on the theme "Cultures of India"
EOC also organized a webinar on 'Mental Health and Social Inclusion' on 20th February, 2021. The guest speaker for the event was a Psychologist and Mental Health Advocate, Ms. Srishti Asthana. The webinar created awareness about Mental Health and the importance of Social Inclusion among young adults.
Convenor
Dr. Nivedita Ghosh (Convenor)
Members
Dr. Shefali Mishra
Ms. Disha Narula
Dr. Annie Bakshi
Dr. Devika Mittal
President
Ms. Saloni Khattak +91-8700727593
Vice President
Ms. Ria Bains +91-9911628111
Connect with us –
Saloni Khattak (EOC President)
Ria Bains (EOC Vice President)
EOC Instagram : https://www.instagram.com/equalopportunitycell_jmc/
EOC Facebook : https://www.facebook.com/equal.opportunity.cell.jmc/