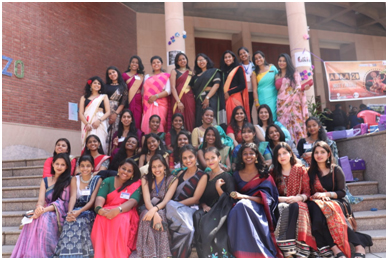 NRITYANJALI: The Indian Dance Society
Nrityanjali, rooted in Indian ethos, is the Indian Dance Society of Jesus and Mary College. One of the most exuberant societies of University of Delhi which has dynamically performed both in-station and out-station competitions and festivals. The students exhibit a passion and respect for the dance forms and culture of the country. Each member is a performing artist and a fine example of dexterity in perfecting the dance forms. The members of the society specialises in various dance forms like Bharatnatyam, Kathak, Mohiniyattam, Bollywood, Tollywood and Folk. Nrityanjali, over the years has put up enchanting performances for renowned personalities. Nrityanjali has also performed in various in-house events like Independence Day, PTSA and Teachers Day
In 2016-2017, it performed for eminent personalities such as Smt. Mira Kumar and Smt. SmritiIrani. Nrityanjali was honoured to perform in front of the President of India, Shri Ram NathKovind, which was streamed live on National television. Our society has performed over 13 Indian classical and folk forms in this academic session. Our members have also been presented with coveted awards from the government for showcasing their talent in Indian dances across the country.
In 2018-19, Nrityanjali performed at various events like Womanite - Betibachaubetipadhao, International Film and Fashion Festival, Balak times Film premiere - National Girl child day celebration, performed at Eros hotel and the members of the society performed to showcase the Indian culture to the students of Japan. Nrityanjali also performed in competitions conducted by IIT Kanpur, Delhi University and other private colleges.
In 2019-20, Nrityanjali has performed in various competitions organised by IIT Kanpur, IIT Bombay, Delhi University and other private colleges.
Main highlights of 2018- 19
Bagged 1st position at UdaanUtsav for Folk dance
Bagged 2nd position at AIIMS for classical dance
Bagged 2nd place at IIT Delhi for classical dance
Bagged 2nd place at St Stephens' college for folk dance
Main highlights of 2019-20
Bagged 2nd place at Shyam Prasad Mukherjee College for folk dance
Bagged 3rd Prize at AIIMS in classical category
Performed in UdaanUtsav 2020
Performed for Interfaith Foundation India
Dr.Anupama Srivastava
(Convenor)
Rosmin Ann Raju
( President)
Neha Joseph
(Vice- President)