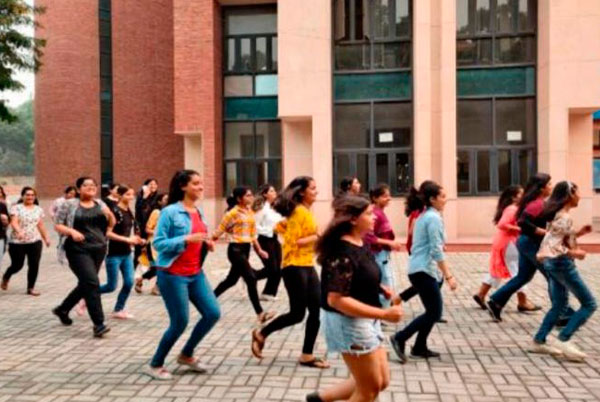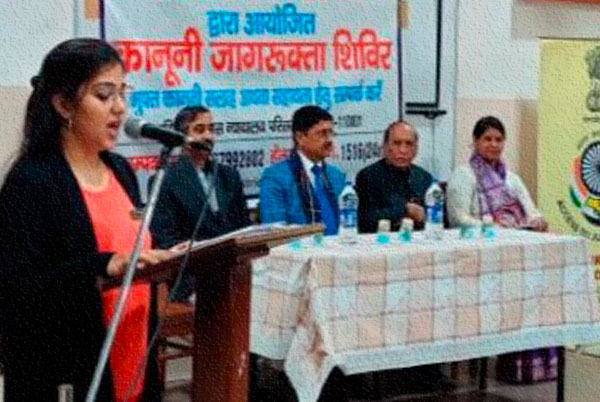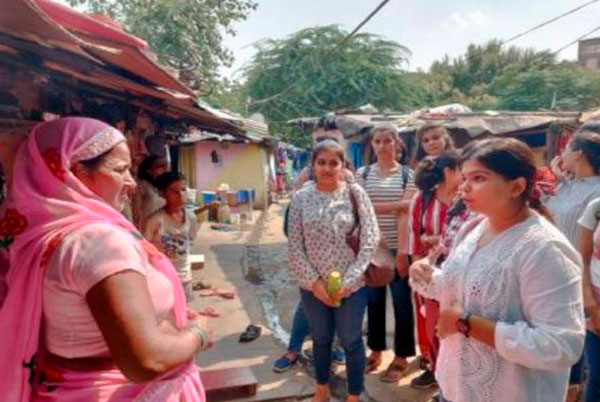 The National Service Scheme (NSS) is a Central Sector Scheme of Government of India, Ministry of Youth Affairs & Sports. The scheme was launched in Mahatama Gandhi's Centenary year in 1969. It is a voluntary association that provides youth across educational institutions the opportunity to take part in government led community service activities and programmes. The central aim of the NSS is to provide hands on experience to young students in delivering community service.
With its strong commitment to the NSS motto 'Not Me, But You', the NSS unit of Jesus and Mary College (NSS-JMC) strives to instill among its student volunteers the value of democratic living, equality of opportunity and selfless service towards those less privileged than themselves. NSS- JMC aims to develop in its volunteers dedication towards community service based on a sense of social justice and welfare, thereby preparing them to become agents of social change.
In keeping with NSS Rules, NSS-JMC volunteers must complete 120 hours of work in their first year of NSS to be eligible to continue as volunteers in the next year. All NSS volunteers who serve NSS for at least 2 years and complete 240 hours of work are entitled to a certificate from the Vice-Chancellor and the Programme Coordinator, University of Delhi.
NSS-JMC has reached out to different sections of society with hands on assistance and awareness building programs throughout the year. Some of the activities in the past years include the Swachhta Pakhwada, Voters' Awareness Camp, Cyber Awareness Programme, the NSS-JMC Annual Diwali Mela, Door-to-Door Plastic Collection Drive, Legal Awareness Talk and its work with an adopted urban slum.
Even the global COVID-19 pandemic could not deter them from their commitment to the ethos of NSS. The NSS-JMC unit conducted webinars on Yoga: Guardian of the Mind, Body and Spirit in collaboration with Dept, of Physical Education, JMC on 21st June 2020 to mark the International Day of Yoga, webinar on New Education Policy 2020: Facts and Fiction by Prof. Namita Ranganathan, Dept. of Education, University of Delhi on 30th September 2020, Swasthya Sewa with UBlood Connect on 10th February 2021 and Cancer Awareness and Prevention by Dr. Sawrupa Mitra, Sr. Consultant and Chief of Gastrointestinal Genitourinary Radiation Oncology, Rajiv Gandhi Cancer Institute and Research Centre on 17th February 2021.
NSS-JMC also organized several activities to commemorate important occasions throughout the year and raise awareness about pertinent social, environmental, educational and health issues such as corruption, menstrual hygiene, road safety, deforestation and mental health. JMC volunteers participated in the Fit India Youth Club, NSS Day, Vigilance Awareness Week, Donation Drive for Diwali and Lohri, National Youth Week, Republic Day, Independence Day, Martyr's Day, World Cancer Day, National Road Safety month and International Women's Day. They came together to pledge to fight the Corona Pandemic and on the occasion of Rashitriya Ekta Diwas and Constitution Day. Activities involved online poetry, essay and poster competitions, online Meditation Session, screening of documentaries followed by group discussion Tree Plantation Drives in several neighbourhoods, COVID-19 Vaccination Awareness Drive and Menstrual Hygiene Awareness Drive while maintaining all COVID protocols The Vaccine Diwas Activities from 11th to 14th April, 2021 included posters (both digital or handmade) made and circulated by volunteers on NSS-JMC social media handles to spread awareness about the different aspects of the COVID-19 vaccination drive such as the registration process, the rules to be followed at the vaccination centre, details of the vaccine, precautions to be taken before and after getting vaccinated, FAQs about the vaccine etc. NSS-JMC volunteers used the poster to spread awareness amongst neighbours, family members, friends and relatives about the vaccination drive and helped them register for vaccination. Those volunteers who were in containment zones or in quarantine were told to avoid meeting people in person and spread information through video calls. Volunteers made videos focusing on the experiences of the people who have been vaccinated to encourage those not yet vaccinated.
Work with NSS, Delhi University Helpdesk in May 2021
NSS Unit of Jesus and Mary College in collaboration with other colleges under NSS, Delhi University joined the Anti-COVID Task Force. 40 NSS-JMC volunteers came forward to extend support, of which 14 were immediately involved in providing and collating information pertaining to the emergency and essential services required for dealing with COVID-19 including Hospital beds, Oxygen supplies, Ambulance and Consultancy services, Medicines as well as Food Resources.
Work with JMC COVID Care in May 2021
NSS-JMC undertook work with JMC COVID Care. NSS-JMC exclusively looked after the Food Services Department wherein volunteers compiled daily lists of different Food services available in different states of India, depending on the home towns that JMC volunteers were in during lockdown.
NSS-JMC organised a Webinar on 28th May '21 from 5-6 pm with Dr. Esha Chainani, Obestrician and Gynaecologist and Founder, Premaa. Dr. Chainani spoke on 'Myths/ FAQs about the COVID Vaccine'.
Through these activities and opportunities, NSS- JMC promotes the holistic development of its volunteers, transforming them into responsible citizens committed to the welfare of the society.
Dr. Mahima Varma
Programme Officer
NSS-JMC
Teacher Advisors:
Dr. Ruhi Kakar Ghai
Ms. Saloni Arora