It's not whether you get knocked down; it's whether you get up. - Vince Lombardi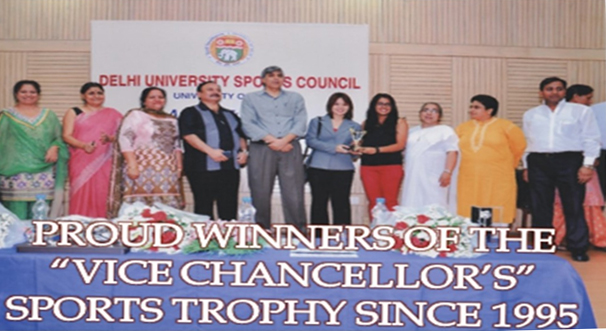 Jesus and Mary College has been bagging the Delhi University Vice-Chancellor's Excellence Trophy in Sports for the past 25 years. The sports curriculumin Jesus and Mary College boasts to have 25 types of sports and ithas received a boost with the establishment of the Department of Physical Education. JMC has been home to several renowned sportspersons who have brought laurels to the country at various national and international levels. In the newly revised syllabi,the introduction of physical educationas a Generic Elective for the Honours courses has been a milestone leap.Students now have the opportunity to explore myriad dimensions associatedwith sports. The course content comprises of Yoga & Stress Management, Fitness, Wellness & Nutrition, Health Education, Anatomy & Physiology, and Athletic care & First Aid. This department stands out because the students have always been able to excel in academics as well as in their domain of sport. The faculty membersenable and encourage the sport students to strike abalance, that results in many of them becoming toppers in both sports and academics. The Department organizes various workshops, seminars and fun activities in order to encourage participation and spread awareness amongst students.
Sports followed in JMC
Archery
Athletics
Badminton
Basketball
Boxing
Chess
Cricket
Football
Gymnastics
Handball
Hockey
Judo
Kabaddi
Kho-Kho
Netball
Shooting
Softball
Squash
Swimming
Table
tennis
Taekwondo
Tennis
Volleyball
Weightlifting
Wrestling
National Sports Organisation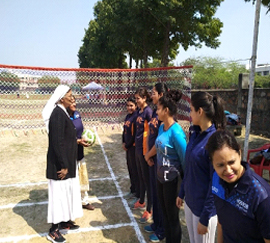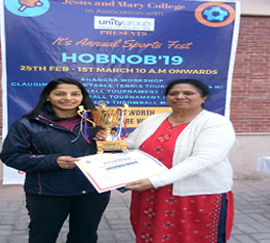 National Sports Organisation (NSO) of Jesus and Mary College, is a compulsory society. NSO is a wing of the Department of Physical Education. All of NSO's activities are organised under the aegis of the Department of Physical Education. It is one of the largest student's society, consisting of more than 600 students. Out of these, about 300 students have got admission through the sports quota, the rest are non-sports students. The students outside of the sports quota, who have opted for NSO, are required to complete 30 hours of activity per semester.
Sports may not be a profession for everyone but it may be a passion for many.With this thought, the initiative of "FIT INDIA" has been inculcated within the organisation. The organisation has been providing sports facilities to those students who have not been able to receive adequate opportunities earlier in the field of sports, but want to commence. Students who show potential get opportunities to play at inter- college and university levels.
Some of the important events organised by NSO are:
Zumba/Aerobics Workshops
Meditation (music healing) sessions
Talks on diet, nutrition, injuries etc.
Intra-organisational quiz and essay writing
Annual Sports Week and Sports Day
HOBNOB is the annual sports week of the college. It involves several events, open for all colleges. Some of the major events include:Inter-departmentalMarch Past and sports competition, staff matches, inter-college tournaments, bhangra/aerobic sessions and others.
Sports Achievers
Apurvi Chandela: Shooting 10 mtr Air Rifle

Currently ranked World No.1, Apurvi Chandela is a 2014 Commonwealth Gold Medalist, 2018 Asian and Commonwealth Games Bronze Medalist, 2015 & 2019 ISSF World Cup Gold Medalist as well as a recipient of Arjun Award.
Manika Batra: Table Tennis

Manika Batra has won 3 Gold medals at 2016 South Asian Games. She won a Bronze Medal at 2018 Asian Games (Mixed Doubles), Gold Medal at 2018 Commonwealth Games (Singles and Team), Bronze Medal (Mixed Doubles) & Silver Medal (Women Doubles) at 2018 Commonwealth Games. She is also a recipient of Arjun Award.
Dalima Chibbar: Football

Dalima Chibbar won a Gold Medal at 2016 South Asian Games. She also won the South Asian Football Federation Cup in 2016.
Gaurika Bishnoi: Golf

Gaurika Bishnoi participated in 2016 World Amateur Golf Championship, Mexico.She also participated in Queen Sirikit Asia Pacific Women Amateur's Championship for 3 years consecutively – 2014, 2015 & 2016. She has been ranked No.1 Women's Profession Golfer 2017.
Nigshi Hazarika: Badminton

Nigshi Hazarika participated in 2015 YONEX BWF Junior Badminton Championship. She won a Bronze Medal in the Women's Doubles at 2016 International Series, Mauritius. She has also participated in the 2018 World Badminton Championship.
Vani Kapoor: Golf

Vani Kapoor participated in the 2010 Asian Games. She is the first Indian to earn a card for the Australian Ladies PGA Tour (2019). She finished on a tie position at the 12th place in the first ever Australian LPGA Qualifying Tournament (2019).
Keerath Bhandaal: Snookers & Billiards

Keerath was a quarterfinalist at 2016 & 2017 World Snooker Championship. She also secured a Gold Medal at 2018 Asian Snooker Championship.
Kumari Rohini: Handball

Kumari Rohini is the winner of 2015 National Games. She is a 2016 Gold Medalist at IHF Tournament, Bangladesh. She also secured a Gold Medal at IHF Inter-Continental Tournament, Thailand in 2017.
Rishika Sunkara: Tennis

Rishika has won 12 titles on the ITF Women's Circuit (Two in singles & 10 in doubles). She participated in 2014 Asian Games. Rishika has a rare distinction of being the junior and pro number one in India while still being a teenager.
Akanksha Mishra: Boxing

Akanksha Mishra is a 2014 Silver Medalist at the 4th National Cup, Subotica, Serbia. She has won several medals at all India Inter University. She has also represented India in Youth World Championship.
Dilreen Gill: Shooting 10 mtr Rifle

Dilreen Gill has won Gold Medals in all India Inter University (2015-16) & World University Games (2016-17). She has also represented India at various Asian & World Championships.
Riya Mookherjee: Badminton

Riya Mookherjee is a 2014 Silver Medalist at Asian Championship. She secured a Gold Medal at LAGOS International Challenge in 2018. She has represented India in Asian Championships consecutively for 5 years (2012-16).