Jesus and Mary College has been demonstrating its serious commitment to sports since its inception. Notable Indian national and international level sportspersons count JMC as their alma mater, bringing laurels and accolades for the country. The college has also been bagging the Delhi University Vice-Chancellor's Excellence Trophy in Sports for the past 25 years, underscoring the excellence of JMC's sporting infrastructure.
The sports curriculum at Jesus and Mary College boasts of 25 different types of sports, ensuring that no sports enthusiast experiences any kind of lacunae in their chosen passion.The field received a definitive boost with the formal establishment of the Department of Physical Education. In the newly revised syllabi,the introduction of Physical Educationas a Generic Elective for the Honours courses has been a milestone for sport recognition and legitimization.Students now have the opportunity to explore myriad dimensions associatedwith sports as a part of their educational degree. The course content comprises of Yoga & Stress Management, Fitness, Wellness & Nutrition, Health Education, Anatomy & Physiology, Athletic care & First Aid.
The Physical Education Department stands out particularly due to the ability of our students in amalgamating academic excellence with success in sports. On their part, the faculty membersenable and encourage the sport students to strike this balance, ensuring institutional support for the students' careers. The Department organizes various workshops, seminars and fun activities in order to encourage participation and spread awareness amongst all JMC students regarding the field.
Sports Played at JMC
Archery
Athletics
Badminton
Basketball
Boxing
Chess
Cricket
Football
Gymnastics
Handball
Hockey
Judo
Kabaddi
Kho-Kho
Netball
Shooting
Softball
Squash
Swimming
Table Tennis
Taekwondo
Tennis
Volleyball
Weightlifting
Wrestling
Current Distinguished Athletes
(**This should be arranged like the current arrangement of the first half of the Sports Achievers Section**)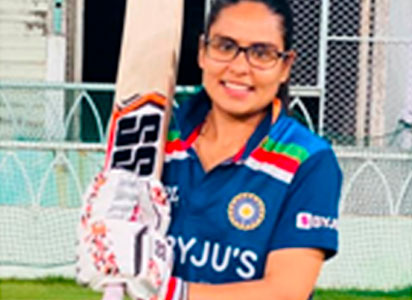 AYUSHI SONI
Played for India's Tour of South Africa; Played and Captained India Red U19; Awarded Best Batswoman U23 Delhi 2019 by DDCA; Attended Two India U19 camps; Played Senior Women Ranji Trophy for 4 Years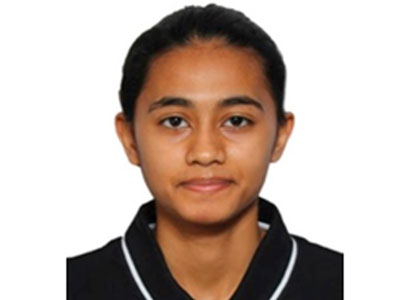 ANUSHKA SAMUEL
Played Football for Delhi Women's League representing Hans Women's FC. The winning goal wasscored by her which led the Team to lift the Cup; Attended Senior Indian Women's National Team Camp in Goa; Won Gold at the Indian Women's League Gokulam Kerala FC; Represented Delhi University in the All India Football Championship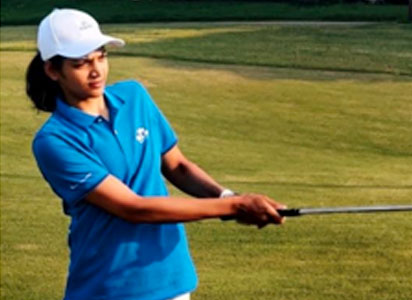 TANIRIKA
Runners-up in the 2013 Asia Pacific Golf Championship; Winner of the 2018 IIFL qualifier for Nick Faldo Series in Vietnam; Part of the Indian National Squad from 2016-2018; Competed in the Asian Games Trials of 2018; Grant of ONGC Scholarshipfor impressive achievements and performance on the National tour of Golf in India. 2 years performance-based contract until turning professional in 2019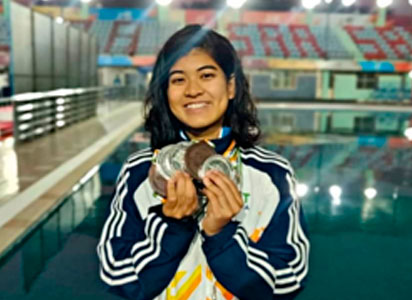 ANUBHUTI BARUAH
Participated in 2017 Speedo Thailand Age Group Swimming Championship; Participated in 10th Pacific School Games in 2017 in Adelaide, Australia; 2018 Gold Medal Winner in Junior Nationals; Gold Medal Winner in National School Games, 2016-2018; Gold Medal Winner in Khelo India Youth Games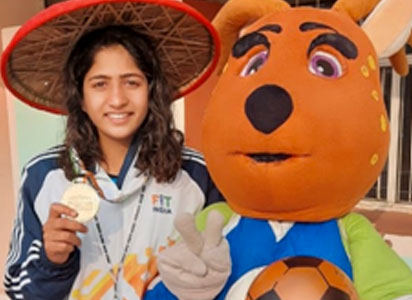 FIRDOUSH KAYAMKHANI
Participated in Speedo Thailand Age Group Swimming Championship 2018; Bagged Gold in Khelo India Youth Games; Gold in Senior and Junior Nationals.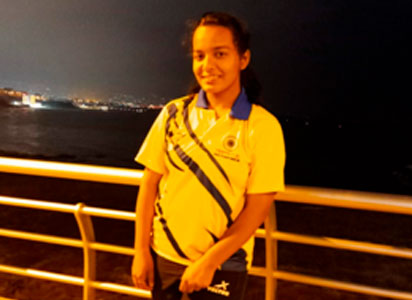 SHAGUN KUMARI
Represented India in Asian Championship held in Lebanon in 2019; Participated in the Copper Box International Handball Tournament held in London in 2018.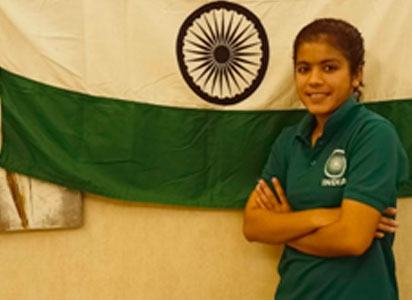 SONAM
Represented India in Asian Championship held in Lebanon in 2019; Won a Bronze Medal in the Senior National and Junior National Championship.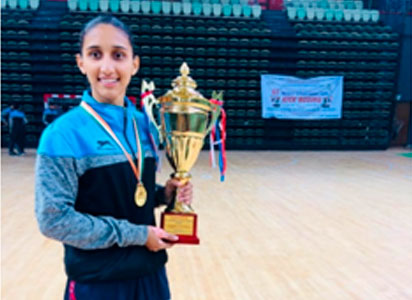 VICKY
Represented India in the 8th Asian Women's Youth Handball Championship held from 21-30 August 2019 at Jaipur, India; Represented India in the Copper Box International Handball Cup 2018 held in London.
Notable Sports Alumni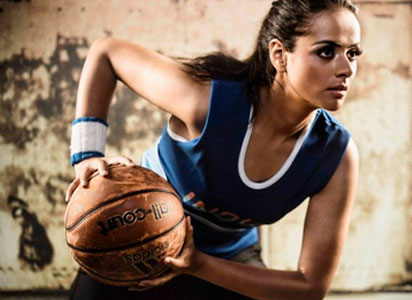 Prachi Tehlan
"Queen of the Court and Lass of the Rings"
Games: Basketball and Netball
Achievements: Captain of the Indian Netball Team at the 2010 Commonwealth Games; Gold Medalist at the 2011 South Asian Beach Games; Gold Medal at 54th National Games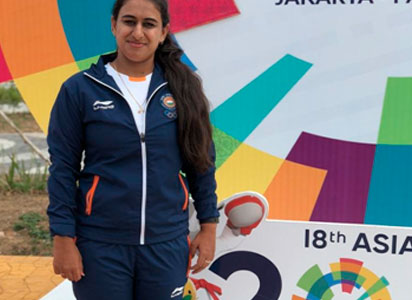 Ankita Bhambri
Games: Tennis
Achievements: Won 9 ITF Women's Circuit Singles and 8 Doubles Titles; Highest World Ranking (Singles) – 332 (2006); Highest World Ranking (Doubles) – 299 (2005); Coach of the FED Cup Team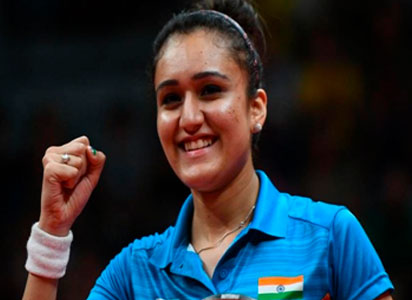 Manika Batra
Games: Table Tennis
Achievements: 2018 Commonwealth Games - Gold Medal in Women's Singles, Women's Team, Silver Medal in Women's Doubles, Bronze in Mixed Doubles; Participated in the 2014 Commonwealth Games and Asian Games; Participated in 2016 Rio Olympics and 2021 Tokyo Olympics Team; Recipient of Arjuna Award and Rajiv Gandhi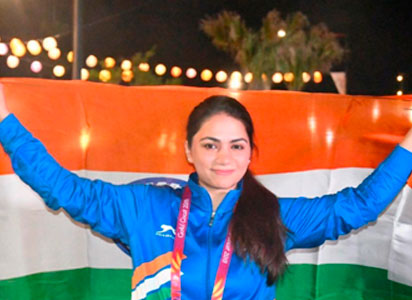 Apurvi Chandela
Games: 10m Air Rifle (Shooting)
Achievements: Gold Medalist 2014 Commonwealth Games; Participated in the 2016 Rio Olympics and 2021 Tokyo Olympics; Bronze Medal in the 2018 Asian Games (Mixed Doubles); Gold Medal in 2019 ISSF World Cup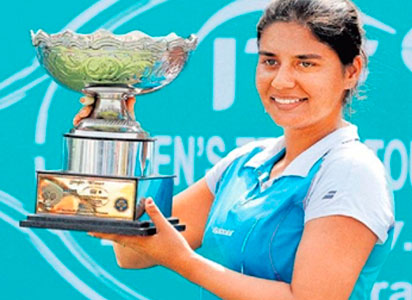 Sanaa Bhambri
Games: Lawn Tennis
Achievements: Reached Semi-finals of 2003 French Open Doubles; Won 2 Singles and 12 Doubles ITF Titles; Won Triple Crown at 2004 DSCL National Championship at Delhi in Women's Singles, Doubles, and Girls U-18 Singles (Youngest Indian to Achieve this Feat)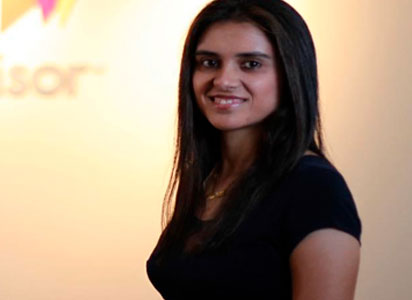 Prerna Bhambri
Games: Lawn Tennis
Achievements: Silver Medal in Women's Singles 2016 South Asian Games; Won 5 Singles and 3 Doubles Titles on the ITF Tour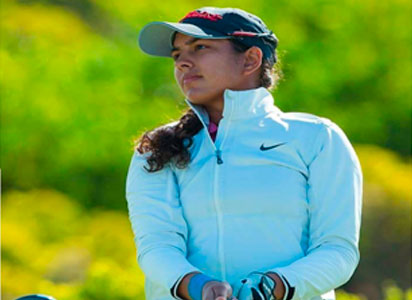 Gaurika Bishnoi
Games: Golf
Achievements:Participated in the 2016 World Amateur Golf Championship in Mexico; Participated in the Queen Sirikit Asia Pacific Women's Amateur Championship for Three Consecutive Years in 2014, 2015, and 2016; Number 1 Ranked Indian Woman Professional Golfer 2017-18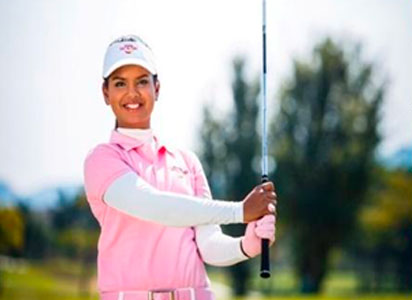 Vani Kapoor
Games: Golf
Achievements:Third Place in 2013 Mineks & Regnum Ladies Classic in Turkey; Finished 42nd at the Victorian Open in Melbourne; Participated in the 2010 Asian Games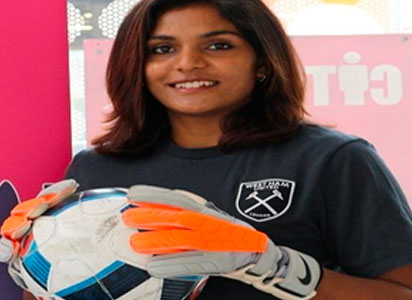 Aditi Chauhan
Games: Football
Achievements:Goalkeeper of India's National Women's Football Team at the 2014 Asian Games; First to Win the Asian Female Footballer of the Year Award 2016; Vice Captain of the Indian National Women's Football Team that Participated in the 2018 Cotif Cup in Spain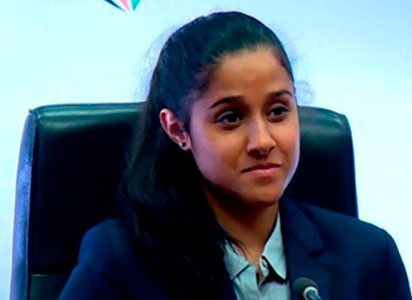 Dalima Chhibber
Games: Football
Achievements:Gold Medalist at the 2016 Asian Games; 2016 and 2019 Winners of the South Asian Football Federation Women's Championships; MVP Saff Championship 2019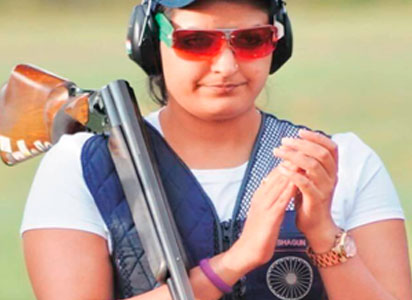 Shagun Chaudhawry
Games: Shooting
Achievements:Won Women's Trap Event at the 61st National Shooting Championship in 2017; First Indian Woman to Qualify for the 2012 Olympics Clay Pigeon Shooting Event; 20th Rank in the 2012 London Olympics; Asian Games Medalist; Current National Games Champion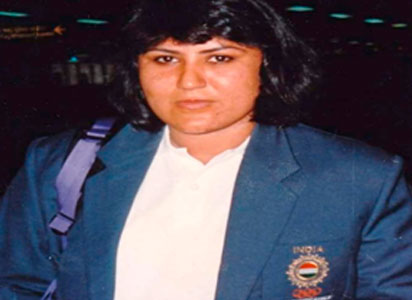 Sangeeta Mehta
Games: Judo
Achievements:First Indian Woman to Qualify for the 1992 Olympics in Judo; 5th Place in the 1991 Asian Judo Championships in Japan; Won 2 Bronze Medals in the Asian Judo Championships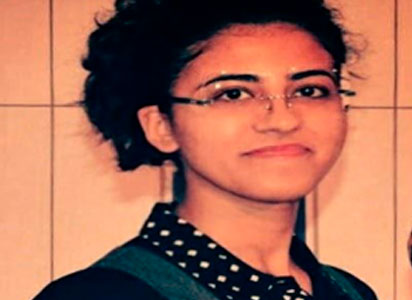 Keerath Bhandaal
Games: Snooker, Pool, and Billiards
Achievements:Bronze Medalist in the Senior Asian Snooker Championship; Pre-Quarterfinalist in the Senior Asian Pool Championship; Bronze Medalist in the Senior National Snooker and Billiards Championship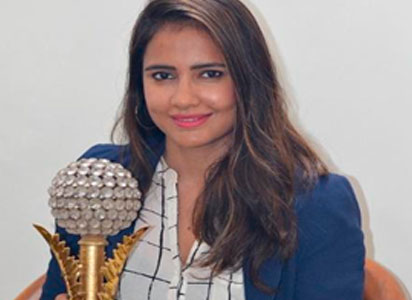 Pratima Singh
Games: Basketball
Achievements:Participated in the 2010 Asian Games; Participated in the 2009 FIBA Asian Championship; Top Scorer of the Tournament in the Senior National Championship (2011-2016)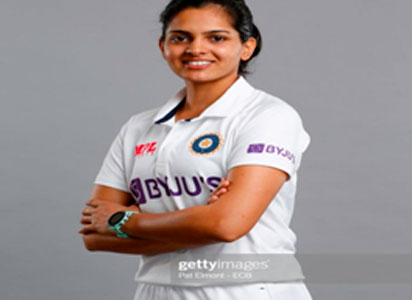 Priya Punia
Games: Cricket
Achievements:Named in India's Women's Squad for their Series Against New Zealand; Twenty20 International Cricket Debut for India against New Zealand on 6th February 2019; Named in India's Women's ODI International Squad for their Series Against South Africa; Named in India's Women's Test Squad for their one-off Match Against England